"Learn to golf" program. Please see the list of dates/choices for May on the registration form.  The cost is $100 and each participant will receive Under Armour, SWING, or Puma golf shirt.  We have our big windup on the course with kids Sunday June 9th in the evening. We will provide golf clubs free of charge as needed thanks to the sponsorship of the UCT/ACT group.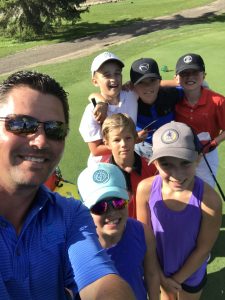 "Learn to Compete" program.
Designed for kids that can already hit the ball well for their age. In this program, we will spend more time on the golf course learning different aspects in the game of golf. If weather isn't good we will take advantage of the indoor hitting facility.  There will be a golf professional looking after the group. We managed to add one extra date in this year so will go till end of July.
Players will learn rules, etiquette, pace of play, scoring, etc. Cost is $180
Age and times are as follows and are limited to 10 kids in each group:
9-11 – Thursdays 4pm to 5:30pm, June 6, 13, 20, July 4, 11, 18, 25
12-14 – Thursdays 5:30pm to 7pm, June 6, 13, 20, July 4, 11, 18, 25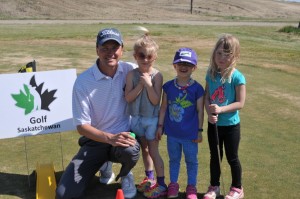 Junior tournament events
Sunday June 16th (fathers day) – Adult/Junior fun tournament sponsored by Intricate Networks.  3pm start for 9 holes of fun with kids partnering up with an adult (parent, uncle/aunt, grant parent etc.)  Adjusted yardages for the kids to enjoy. Supper is included and there will be lots of prizes to be handed out to all the kids. $20 for members and $30 for non-members and good fun guaranteed.
Sunday July 28th  – ACT/UCT Junior open.  1pm start. This is open to any player ages 8 to 18 that would like to be introduced to tournament golf. For more info or to enter call the pro-shop at (306) 778-4653 ext 1.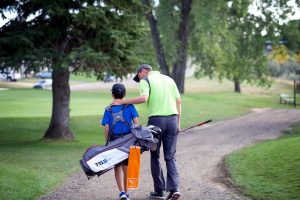 Family opportunities
Family golf times this season run every Sunday until end of September.  Sunday afternoons are designed for young players of any age to play with family members in a fun round of golf for a great price.  The course can be played shorter than normal on the front nine to give kids of all ages and skill levels a chance to play golf from tee to green.  Kids play for free and parents/adults (non-members) pay only $25 to play as much as you want and cart is included.  This offer is good for any tee times after 1pm on Sundays all season long. Parents are requested to make a tee time (306)778-4653 ext 1.
Mother's and Father's Day

If you bring out Mom on Mother's day or Dad on Fathers Day, they golf for FREE! We love family golf at Elmwood.
Kids Golf for FREE
Kids ages 11 and under are free to play at Elmwood golf club any time as long as with an adult.  Only kids ages 12 and over require membership fee or green fee to play so take advantage of our savings to you!
Thanks again to the local ACT/UCT for helping to fund the purchase of clubs for kids to use free of charge when they golf at Elmwood.